Thermal Water Loops for Hydrothermal Geothermal Energy Use
The surface thermal water loop connects the two wells or well groups of the system with heat or power generation units. It primarily contains equipment for decoupling heat from the thermal water as well as equipment for process safety (e.g., overpressure upkeep, inert gas admission to the well heads and loop, particle filtration, degassing, dosing systems). Its specific configuration must be adapted on the one hand to the site-specific parameters of the resource (corrosiveness, scaling potential, gas flow, temperature, etc.) and on the other hand to the energy conversion technology and the consumer systems.  
GTN is able to develop tailor-made solutions in-house thanks to the strong synergies between geoscientific and engineering know-how. Many years of experience in planning and construction management as well as in monitoring the operation of numerous geothermal systems in all relevant regions of Germany and Europe form the basis for this.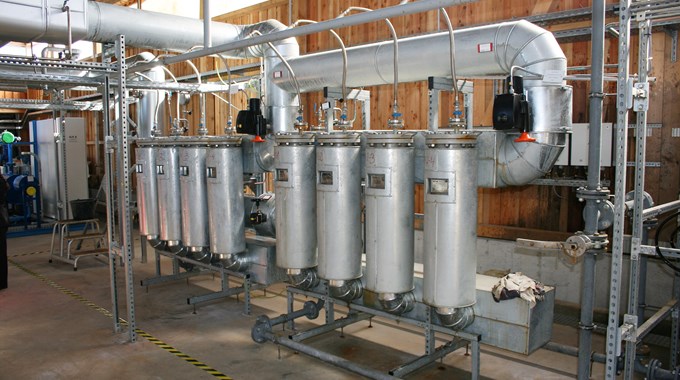 Our services for thermal water loops:
Material selection for pipelines, valves and fittings and equipment based on the thermal water characteristics and operating conditions
Circuit concepts, i.e., selection, design and arrangement of the system components (pumps, heat exchangers, tanks, filters, auxiliary systems such as inert gas equipment, etc.)
Control and monitoring concepts
System, electrical and control engineering planning through to Detailed Design
Support in tendering and contracting
Construction supervision
System monitoring with regard to energy efficiency, material behaviour and control of the thermal water chemistry
The surface thermal water loop is an often underestimated component of geothermal systems. However, it has a decisive influence on the reliability and availability of the system and the long-term preservation of the quality of the reservoir.