Mapping
GTN offers a wide range of services in the field of geological mapping and makes this expertise available in various projects within and outside Germany. This includes the classical geological surface mapping, the mapping of hydrothermal sources as well as facies underground mapping and architectural analyses.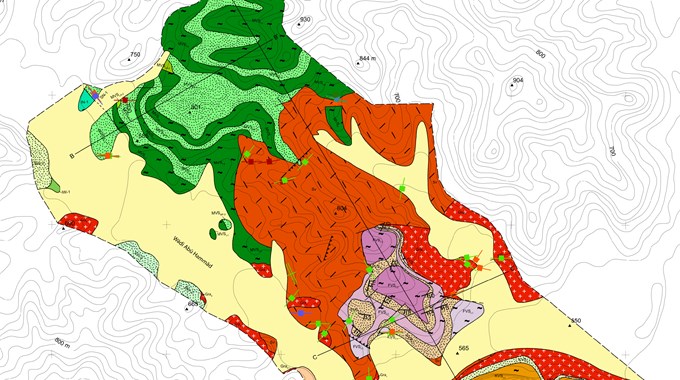 Maps show location, extent, properties and other essential information necessary for successful aquifer development. Classical geological surface mapping provides important information on lithology, faults, bedding conditions, stratigraphy and allows cost-effective sampling.
The mapping of hydrothermal sources and detailed sampling of the hydrothermal waters in connection with geological surface mapping supports the interpretation whether these sources are coupled to certain faults or lithologies and whether these can be used at depth. Analyses provide first indications of the chemical composition of thermal waters.
In sedimentary basins, existing boreholes and their geophysical  logging curves or seismic profiles can be evaluated and interpreted in order to prepare lithofacial underground mapping. This leads to a reduction of the exploration risk and to an improved yield estimation of the aquifer. To improve the spatial understanding of aquifer systems, analogue surface models are often mapped lithofacially.   For this purpose, the spatial extent of the sediment bodies is recorded in detail and transferred into a genetic model.
The GTN specialists have many years of experience in mapping the most diverse geological systems.
Geological surface mapping
Geological and lithofacial underground mapping
Hydrogeological mapping
Structural geological mapping
Geological mapping forms the basis for the analysis of the structural, facial and  lithological setup