Heat Pumps
Heat pumps use geothermal energy, waste heat or even the heat of the outside air to provide heat at a higher temperature level suitable for technical use. This requires drive energy in the form of electricity, gas or high-temperature heat. The magnitude of the driving heat in relation to the total heat supply, i.e., the efficiency of the machines, depends on the development costs and the temperatures of the heat source, the connected heating system and its mode of operation and also on the specific design of the heat pump circuits. In well-designed systems, at least 75 % of the heat ultimately generated comes from the heat sources.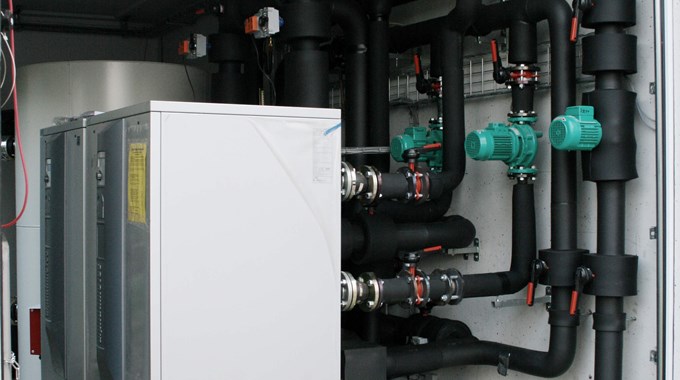 Our services cover all engineering disciplines required for successful project development in residential and commercial building construction:
Inventory of existing system technology and requirements
Feasibility studies for the heat pump systems and their peripherals
Economic feasibility studies, e.g., according to VDI guideline 2067
Inclusion of possible subsidies and support in applying for funding
Selection of the heat sources
Hydrogeology
Numerical modelling of the heat sources (e.g., groundwater loops or borehole heat exchangers)
Permitting procedures (under the Mining Code, Water Act, etc.)
Technical planning for the heat pumps, the heat sources (e.g., wells, BHE arrays) and the heat and cold consumer systems (for heat pumps for combined heat/cold production)
Support in tendering and contracting
Construction supervision
System monitoring
Heat pumps, in particular ground-coupled systems and those that utilise waste heat, are environmentally friendly and, with correct planning, also cost-effective solutions for supplying heat and cold to residential, commercial and industrial buildings and public facilities.